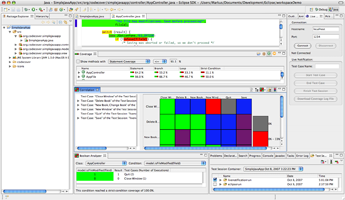 News
07.07.2011: CodeCover auf dem Java-Forum Stuttgart
Vortrag von Rainer Schmidberger zu "Testsuite-Optimierung mit CodeCover". Abstract und Vortragsfolien
16.03.2011: CodeCover 1.0.1.2 released
Bugfix in highlighting if decisions, bugfix in JUnit interface, see topic 4084600.
19.04.2010: CodeCover 1.0.1.0 released
Term coverage competely reworked: CodeCover now implements the Ludewig term coverage. The Ludewig term coverage is similar to MC/DC, but has some advantages: the Ludewig term coverage is defined for partly coverage, and for each individual term value set the term coverage can be determined - both is not possible for MC/DC. For short cut semantics (the usually used && and || operators) the Ludewig term coverage subsumes MC/DC.
27.01.2010: CodeCover 1.0.0.8 released
Two new metrics are introduced: the ?-Operater coverage and the synchronized coverage. The new version is available via the CodeCover update site
02.03.2009: (German) CodeCover auf den Test-Tagen 2009 in Stuttgart
Auf den Test-Tagen 2009 der Java User Group Stuttgart vom 07.05.-08.05.2009 wird CodeCover präsentiert mehr ...
09.03.2009: New CodeCover 1.0.0.1 released
The instrumentation is changed: return-statements are now instrumented too.
The benefits of glass-box testing

Codecover capabilities

Testing adequacy metric
Coverage is an objective adequacy metric which can be used as a test completion criterion.
Test suite extension
The glass-box test shows the program elements which were not executed. CodeCover proposes test cases to increase the coverage.
Test suite reduction
Removing (redundant) test cases from a test suite to reduce regression testing effort without (significantly) decreasing testing effectiveness
Basis for selective regression testing
Instead of "rerun-all" in regression testing, only those test cases are selected that were "involved" in the code modification.
Support for program comprehension
The glass-box test shows which program code is executed by which test case (traceability).

General
CodeCover is a free glass-box testing tool developed in 2007 at the University of Stuttgart (ISTE).
Coverage metrics
CodeCover measures statement, branch, loop, term coverage (subsumes MC/DC), question mark operator coverage, and synchronized coverage.
Reports
CodeCover uses the template engine Velocity.
Platform
Command line (Linux, Windows, Mac OS) and Eclipse and Ant integration
Programming Languages
Open language interface, available languages: Java and COBOL
Licence
Eclipse Public Licence (EPL)
Quick Overview
See presentation slides [pdf].